Situated just outside of Boston in beautiful Cambridge, Massachusetts, United States, Harvard University is a private Ivy League institution. Boasting graduates including Helen Keller, Henry David Thoreau, and eight U.S. presidents, this university has a long history of excellence. Founded in 1636, it was the first college established in the American colonies.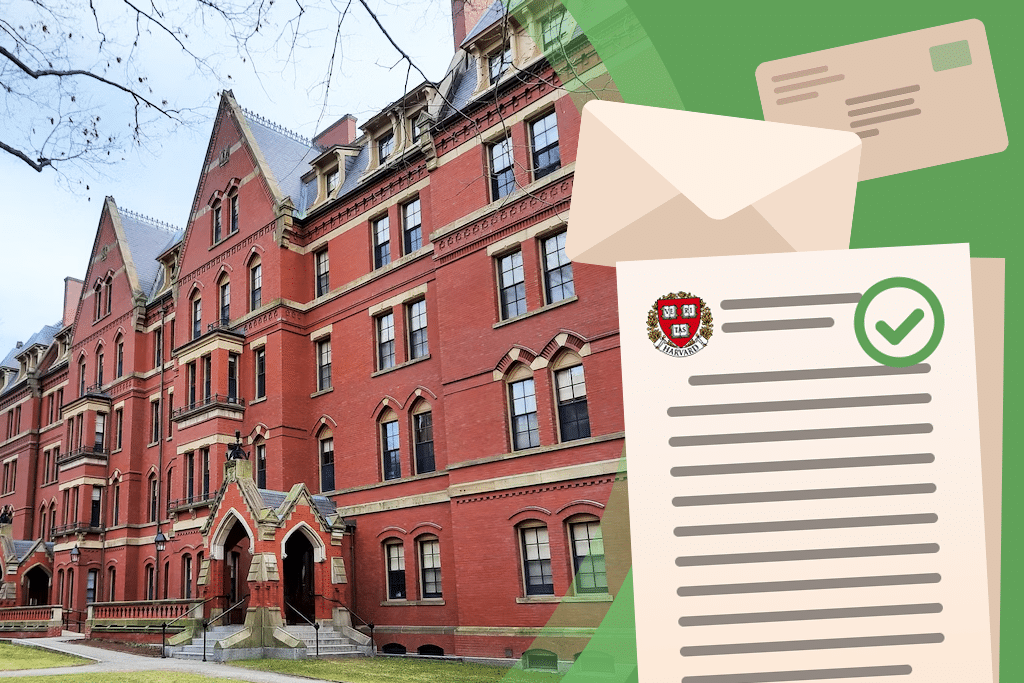 Harvard is known far and wide for its selectivity and prestige, and the prospect of a Harvard application can be daunting. Never fear – this article will guide you through everything you need to know about the application process.
Harvard University Statistics
How Selective is Harvard University?
With a record-low acceptance rate of 3.19% for the Class of 2026 last year, Harvard College is certainly one of the most selective institutions in the nation.
Rankings
Harvard University is currently tied with Stanford for the #3 spot in the lineup of United States higher education, according to the U.S. News. However, with a 7:1 student-to-faculty ratio, an undergraduate student body of 7,103, and robust need-based financial aid programs, Harvard ranks #1 for best value schools.
GPA
The average GPA for accepted students hovers around a 4.0 unweighted, meaning that those admitted pretty much achieved A's and maybe a few A-'s throughout high school.
SAT and ACT
The middle 50% of accepted applicants for Harvard either scored between 33-36 on the ACT or between 1480-1580 on the SAT. This means that over a quarter have a perfect or near-perfect score, but another quarter gained admission with scores below these ranges, too.
Tuition and Financial Aid
The cost of an education at Harvard is $76,763 per year. However, it is important to consider that Harvard's financial aid program meets 100% of demonstrated need, with 55% of undergraduate families receiving financial aid and an average parent contribution of only $13,000 per year. Financial aid is assessed for each applicant regardless of nationality or citizenship status, and the admissions process itself is need-blind.

What is Harvard University Looking For?
The High School Experience: Expectations
Overall, admissions officers at Harvard expect to see that you've challenged yourself with your coursework throughout high school. Ideally, the strongest applicants will have taken classes in these subjects for the corresponding number of years:
English – 4 years, with extensive practice in writing
Math – 4 years
Science – 4 years, including biology, chemistry, physics, and an advanced course in one of these subjects
History – 3 years, including American and European history
Non-English Language – 4 years of one language
While these recommendations outline the paths taken by some of the strongest applicants, Harvard College recognizes that there is no single academic path that is fitting for every student. Following a rigorous course schedule that aligns with your passions and goals is encouraged.
Additionally, the courses you take will be considered in the context of your school – you will not be penalized for not taking courses unavailable to you. For example, if your school does not offer calculus, you will not be punished for not taking calculus.
If your school offers AP courses, IB programming, or other advanced academic opportunities, challenge yourself with them. Harvard looks for students who push their own boundaries and explore new areas of study, even beyond their primary interests. For instance, taking AP European History, even as a prospective pre-med student, demonstrates well-roundedness and motivated academic curiosity.
Taking accredited coursework offered online or by local community colleges also demonstrates motivation and will bolster your application.
Extracurricular Activities and Leadership
There is no one ideal set of extracurricular activities that Harvard looks for in its applicants. Instead, admissions officers value students who have committed themselves to exploring their passions and developing skills and values like leadership, community building, and service.
Some successful applicants are well-rounded students who have explored a variety of activities and responsibilities, whereas others have dedicated themselves wholeheartedly to one or two main extracurriculars. Developing a "spike" or two, as opposed to maintaining a well-rounded set of experiences, allows some students to stand out among their peers and demonstrate dedication and continuity that other applicants may not possess.
Regardless of whether you have dedicated time to one or several activities, it is important to remember that you will be most motivated to invest in activities that you are passionate about. As you move through high school and beyond, feel free to try new things and explore – extracurriculars are a wonderful way to discover new joys. Don't be afraid to be proactive, too: if you love to crochet, but your school doesn't have a fiber arts club, try starting one yourself! Admissions officers love to see individuals actively pursuing their interests and taking initiative.
Supplemental Materials
Harvard includes a Supplemental Materials section in their application, which gives applicants the opportunity to submit additional materials of their own creation that they feel will significantly improve their application. Supplemental Materials can include:
Scholarly articles
Creative writing
Research
Other documents authored by the applicant
Videos (e.g. dance, choreography, theatrical performances)
Audio recordings (e.g. music recordings)
Images (e.g. artwork, visual arts)
Harvard notes that the standard application materials typically provide more than enough information to make an admissions decision, and supplemental materials are entirely optional. Choosing not to submit additional materials will not harm your application. However, some students may feel that the basic application does not fully encapsulate their achievements or talents, so they choose to share additional materials here.
The submissions may be evaluated by Harvard faculty if the Admissions Committee deems appropriate, so be sure to put your best work forward if you decide to submit supplemental materials!
The Interview
At the discretion of the Admissions Committee, applicants may be assigned an interview with a Harvard alumnus/a. These assignments are partially based on the availability of volunteer interviewers in your area. If an interviewer reaches out to you to schedule an interview, it is highly recommended you meet with them. Interviews are unlikely to be the deciding factor either way for your application, but a positive interaction with an interviewer reflects well on you as a prospective Harvard student. Prepare some thoughtful questions for your interviewer beforehand, and let your personality shine!
Application Checklist
The Application
Harvard College accepts both the Common Application and the Coalition Application, without a preference for either. Be sure to submit the application in a timely manner so it can be reviewed fully and completely. Harvard provides a helpful Application Tips page to guide you through the particulars of their Common Application.
Essays
In addition to the standard personal statements included in the Common and Coalition Applications, Harvard has three supplemental essays: two short responses (one required, one optional) and one essay (optional). Check out this Next Admit blog post for more information about How to Write the Harvard Supplemental Essays.
Application Fee
Harvard requires an $85 application fee or the submission of a fee waiver.
What You Need from Your School
Midyear School Report
At the time of your application, your counselor will likely submit your transcript to Harvard without senior year grades. The Admissions Committee will require a Midyear School Report from one of your school officials to confirm that your grades are maintained at a high level halfway through your final year of secondary school. Be sure to request this report and check that it is submitted by your school counselors.
Teacher Evaluations
Harvard requires two evaluations from teachers in different core academic subjects. Choose teachers with whom you have a connection – teachers who know you well will write much more memorable and impactful letters than those who only know you in passing. Consider which teachers can showcase your best qualities in their writing. If you haven't built close relationships with any of your teachers, schedule a time to meet with some of them and discuss your goals, motivations, and any other personal qualities you feel are relevant to your application. Meetings like these can be helpful to set the tone for the letter of recommendation they will write, even for teachers you may know well.
Final School Report and Transcripts
A Final School Report and transcript are required of all admitted applicants who choose to enroll. As soon as your final grades become available, your school counselor or official should submit your records to the College, no later than July 1.
What's the Deal with Test-Optional?
Harvard College applications have recently become test-optional. Applicants have the choice of whether to submit ACT or SAT scores, with or without the essay portion, along with the rest of their application materials. Choosing not to submit standardized test scores will not harm a student's chances of admission, but a solid score has the potential to strengthen them. Thus, it is highly recommended to study and sit for the exams and try for a good score.
If taking either the SAT or the ACT is an option for you, we recommend trying your hand at the exam that is the best fit for you. If your scores are reflective of your achievement and comparable to the median scores for Harvard (or any other test-optional school you are considering), then submitting them will likely strengthen your application.
Harvard recognizes that these numbers alone do not encapsulate a person's potential, and regardless of whether an applicant submits test scores, their application will be reviewed holistically and thoroughly.
Deadlines
The deadline for Harvard Restrictive Early Action applications for the Class of 2027 has already passed (November 1, 2022). Decisions for this cycle of applicants will be, or have been, released mid-December.
The deadline for Harvard Regular Decision applications for the Class of 2027 is January 1, 2023. However, financial aid applications for the Regular Decision cycle are not due until February 1, 2023. For this cycle, scores from exams as late as the December SAT and the February ACT can be submitted, but earlier dates are recommended so the review of applications can begin in a timely manner. Decisions for the Regular Decision cycle will be released at the end of March, 2023, and admitted students must respond to the offer by early May (no deposit required).
When applying to Harvard, bear in mind that each application cycle, thousands of well-qualified applicants are denied admission. Whether or not you are accepted into Harvard is not a reflection of your academic merit or personal promise – the admissions process is a difficult one that must sort through many bright applicants who are ready to excel. Wherever you end up, your education is what you make of it. Chase your goals, nurture your passions, and throw your hat in the ring: the only way to gain admission is to apply!