Founded in 1740 by Benjamin Franklin, the University of Pennsylvania (UPenn) is a historic Ivy League research university located in lively West Philadelphia. Among its four undergraduate schools, UPenn boasts the first medical school and the first collegiate business school in North America. Notable alumni include Noam Chomsky, John Legend, Warren Buffett, and Elizabeth Banks.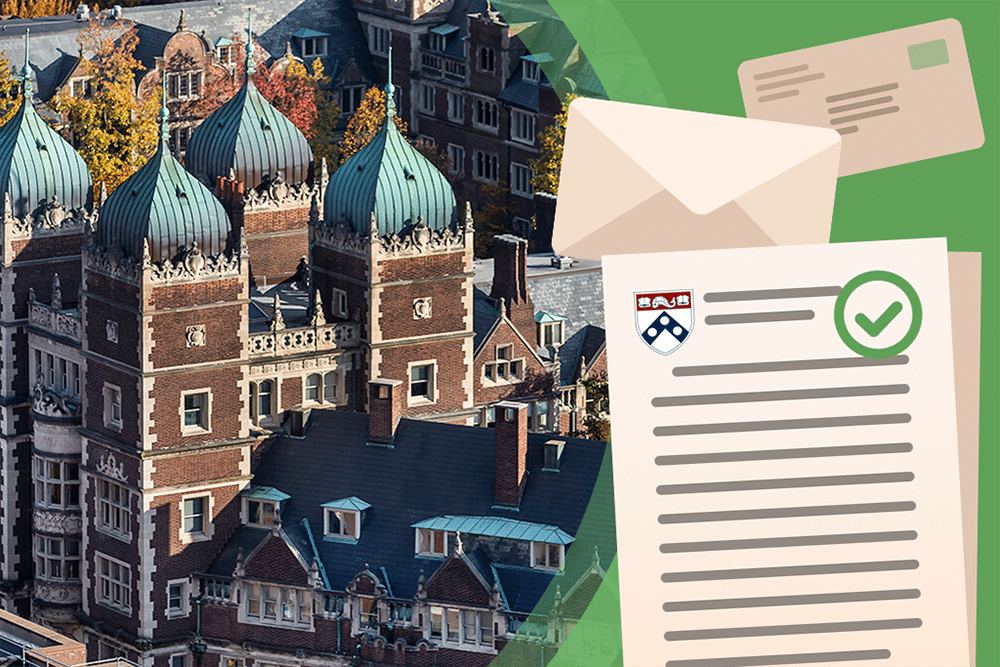 Getting past UPenn's low acceptance rate to join this list won't be easy—but we're here to help you take your best crack at it, with a comprehensive breakdown of UPenn's Application Checklist for the 2023-2024 application cycle.
UPenn Statistics
How selective is UPenn?
UPenn is extremely selective, with a 7.4% acceptance rate for the Class of 2023.
Rankings
Currently ranked the #7 best institution of higher education in the United States, UPenn provides its 10,412 undergraduates and 13,147 graduate students a cutting-edge education in business, law, and medicine. UPenn is also 10th nationwide in number of students currently studying abroad.
SAT and ACT
In 2022-23, UPenn did not require the ACT or SAT to apply. For enrolled students who did report test scores, the middle 50% report SAT scores in the range of 770-800, SAT Evidence-based Reading and Writing of 730-780, and Composite ACT scores of 33-35.
GPA
The average admitted UPenn applicant has a weighted GPA of 3.9, meaning accepted applicants generally receive only A's and A-'s in high school. 94% of the Class of 2026 scored in the top 10% of their classes.
Tuition and Financial Aid
The cost of attending UPenn is $63,452 per year. Financial aid scholarships at UPenn are need-based and mostly need-blind – meaning merit does not factor into your financial aid award, and UPenn doesn't consider most students' ability to pay tuition in the admissions process. However, if you aren't a citizen or permanent resident of the US, Mexico, or Canada, your application won't be need-blind. Students who receive financial aid for the 2021-2022 academic term paid an average annual price of $17,888.

What Is UPenn Looking For?
High School Coursework
Your recommended focus in high school will change depending on which of UPenn's four undergraduate schools you choose for your application—the College of Art and Sciences, Penn Engineering, the School of Nursing, or The Wharton School. However, UPenn recommends a strong foundation in the following core academic areas for all applicants:
English
Social studies
Math
Science
Foreign language
Once you've slated a solid transcript in core academics, look for additional curricular and extracurricular opportunities related to your undergraduate school of choice. If you're applying to the College of Art and Sciences, take additional courses in the humanities, social sciences, and natural sciences. For Penn Engineering, prioritize calculus, alongside other physics and math classes. Wharton School applicants should also prioritize calculus and other math courses, though without the physics focus. Finally, if you're a School of Nursing applicant, make sure you take the highest chemistry courses you can manage at your school, as well as other science classes.
Admissions officials won't penalize you for courses your school doesn't offer, but this means they will check your transcript against the courses it does offer. With this in mind, try to take as many AB, IB, or otherwise advanced classes as you can manage—while balancing your time and GPA—to demonstrate your academic curiosity and willingness to challenge yourself. If your school doesn't offer this kind of programming, consider enrolling in classes at your local community college, four-year college, or online—UPenn allows and encourages additional extracurricular or post-secondary work for students with fewer high school opportunities.
The Interview
Over 90% of UPenn applicants receive an optional interview with an alumni volunteer during the application process. We, and UPenn, strongly recommend you take this opportunity if it's available. Though it likely won't weigh heavily on your application, a one-on-one conversation with an alumn is a fantastic opportunity to learn more about UPenn from someone who actually went there, and show them who you are face-to-face, beyond your transcript and essays. Dress professionally but comfortably, respond promptly to any emails or texts you get in advance, and do your research about the school (but not the interviewer). Be prepared to answer basic questions about your interests, future plans, and the reasons you want to attend UPenn, as well as the classes and programming you have an eye on. Finally, bring a list of your own questions that demonstrate your interest in UPenn and your curiosity as a potential Quaker.
In 2022-23, UPenn offered interviews virtually. As mentioned above, interviews are based on the availability of interviewers, so don't worry if you don't get offered one—admissions officials won't penalize you for not taking an opportunity that wasn't available.
UPenn Application Requirements
Application Checklist
The Application
UPenn accepts both the Common App and Coalition Application, so try to choose the platform that works best for you. Both application processes are similar—teachers and counselors may be more familiar with the Common App, while the Coalition Application contains a built-in feature for requesting teacher, counselor, and family feedback. Keep these differences in mind while selecting the platform you'll use to apply to UPenn.
Essays
In addition to a personal long-answer essay from your Common App or Coalition Application, you'll need to complete the UPenn Supplemental Essays. Each year, UPenn requires responses to two or three short-answer prompts, ranging from 150-450 words. For reference, the Common App essay is 650 words.
Application Fee
You must submit a $75 application fee or fee waiver.
What You Need from Your School
Transcript
UPenn requires an official high school transcript as part of your application. Your counselor should submit this for you, but make sure to look over it beforehand in case of any typos or vague course titles that don't reflect the actual rigor of your work. For example, if you're applying to the School of Nursing, you'll want to make sure admissions officials know you took AP Chemistry instead of just "Science."
Secondary School Report
Your counselor will submit this alongside your transcript once you enter their information via the application portal.
Counselor Recommendation
The first of UPenn's three required recommendation letters is the counselor recommendation. Admissions officials specifically value recommendations from those who know you personally, so try to meet with your counselor beforehand to help them learn more about you and craft a more personalized recommendation letter. As with any letter, make sure to request it well in advance—this will give your counselor the time they need to write your recommendation in effective detail.
Teacher Recommendation
Secondly, UPenn requires a letter of recommendation from a teacher, preferably one you've had within the past one or two years. Choose a teacher who knows you well and can speak to your unique strengths as a student, and if no one comes to mind, try to meet with them beforehand like with your counselor. Make sure to tell them any interests, passions, hobbies, or facts about your background you feel are crucial to who you are and communicate something admissions officials won't find anywhere else on your application.
Additionally, consider choosing a teacher who can speak to your academic strengths as they relate to your undergraduate school of choice. If you're a Wharton School applicant, consider requesting a letter from your senior-year economics teacher. If you're applying to Penn Engineering, consider your physics or calculus teacher. Above all, you should choose an instructor who truly believes in your ability to succeed at UPenn—so if you're applying to the School of Nursing, but your history teacher is eager to champion your academic strengths and knows you way better than your chemistry teacher, go with the history teacher.
Other Recommendation
Lastly, you need to submit a third recommendation letter from another source. This can be another teacher—but for the sake of a well-rounded application, consider going with a different type of person in your life who can speak to your personality outside of school. Good examples include sports coaches, religious leaders, employers, or music instructors. If you do go with another teacher, make sure to choose an academic subject that differs significantly from your first teacher recommendation, thereby showcasing a different range of skills. Again, your top priority should be to present a multifaceted and detailed application as a whole, so always look for ways to bring in new interests, experiences, or personal qualities with every section of your application.
To this end, avoid submitting a recommendation from family members or family friends. While these people definitely know you well, they may not be able to speak to your specific strengths in the same way that a vocal coach or work supervisor could. Also keep in mind that most applicants have family and friends who would love to go to bat for them in a recommendation letter—so submitting a letter along these lines ultimately doesn't tell admissions officials much about you that would distinguish you from other applicants.
Mid-Year Report
As soon as you receive your mid-year grades, make sure to ask your counselor to submit this report. Other than that, this section doesn't require anything additional on your part.
Tests and Extracurriculars
SAT or ACT
Although UPenn didn't require the SAT or ACT for the 2022-23 application cycle, this may change in the future. Additionally, you'll still have the option to submit standardized test scores regardless. If you have a good SAT or ACT to report (i.e. within or exceeding the average score ranges listed above), submitting it can only help your application even if it's test-optional.
If you do end up submitting an SAT or ACT, be aware that admissions officials will superscore your tests—that is to say, they'll only consider your highest self-reported score. Importantly, if your scores fall outside the average range for admitted students, you won't be penalized for trying again even if your second score is lower. With the caveat that other schools may not superscore your SAT or ACT, you should use your high school's resources and your first experience to prepare and take the test again, if you're able to do so.
English Proficiency Exams
UPenn requires English proficiency exams for non-native English speakers whose primary language of instruction wasn't English during high school. You can submit any of the following tests:
Duolingo English Test
IELTS
TOEFL
Unlike the SAT and ACT, UPenn requires you to report English proficiency exam scores through official testing agencies rather than self-reporting.
Extracurriculars
For a top-notch university like UPenn, you'll need to make sure your Common App's extracurricular section is also top-notch. You're limited to ten, but don't try to pad out your list to reach that number—admissions officials will be able to tell if you're reaching for extra activities by listing hobbies or splitting one extracurricular into multiple.
Instead, prioritize the quality of the extracurriculars you choose. Put your most impressive or important activities at the top, including leadership roles or anything you've put a lot of time and energy towards, and make sure to include a variety of academic, athletic, artistic, and volunteering activities. Listing previous employment is also another opportunity to show admissions officials your maturity and professional skills.
UPenn provides applicants a handy list of pointers for filling out their extracurricular section. Alongside varying your activities, you should be specific about the amount of time you spent on each extracurricular, and emphasize what the activity meant to you beyond describing the things you did. This can be tricky with a 150-word limit, but explaining the skills you learned is a good way to start. For example, if you're describing a part-time retail job, you could say you worked on a team for 3 months to sell products—or you could say you learned customer service and teamwork skills through 3 months of product sales.
Finally, if you still have some time to build out your extracurricular list before you're ready to apply, check out UPenn's summer programs for reference!
Deadlines
Both of UPenn's application deadlines for the 2022-23 matriculation cycle have already passed. Early decision applications were due November 1, 2022, and decisions were released on December 16, 2022. Regular decision applications were due January 5, 2023, and decisions will be released by April 2023. The university didn't report acceptance rates for this year, but over 8,000 students applied early decision.
As you're preparing for UPenn's next matriculation cycle, make sure to remember that you're applying to one of the most competitive schools in the world. Even an outright rejection doesn't mean you're not a strong student, or that you won't excel elsewhere—but the only way to guarantee you won't be accepted is to not apply. Get started early, use any resources you have around you for help, and give it your best shot! We'll be cheering for you the whole way.