Located in Princeton, New Jersey, United States, Princeton University is a private Ivy League university. Established in 1746, Princeton is the fourth-oldest institute of higher education in the United States. Princeton can count among its former students world-changing people ranging from Jeff Bezos to F. Scott Fitzgerald to Aaron Burr.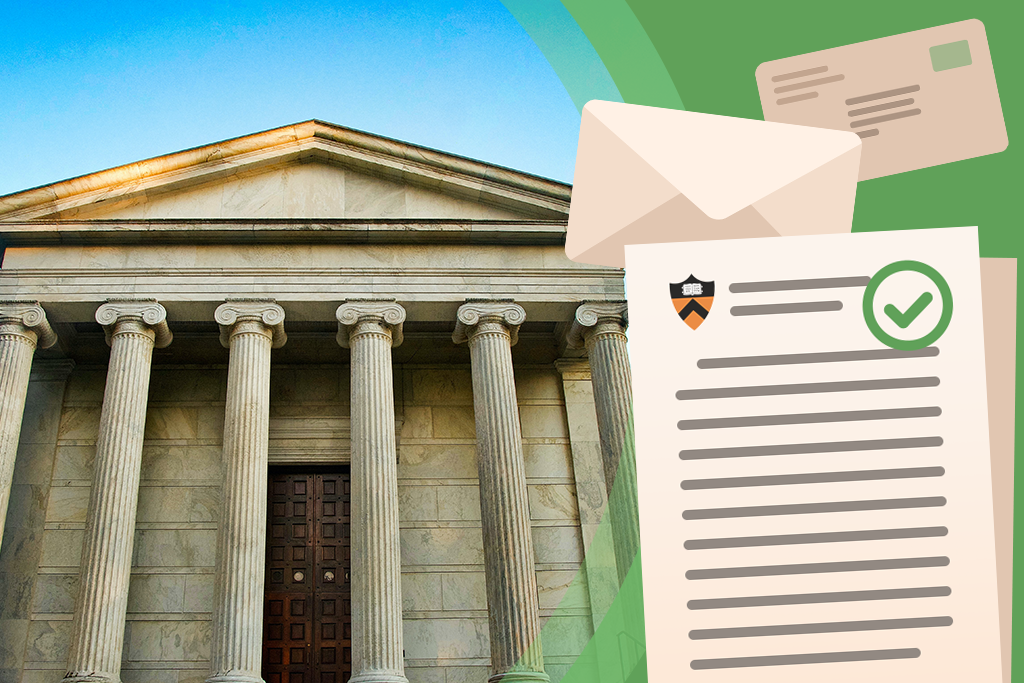 Princeton is one of the toughest schools to gain admittance to in the United States, but this post will break down every element of the Princeton Application Checklist to explain how you can maximize your opportunities.
Princeton University Statistics
How Selective Is Princeton University?
For the Class of 2026 going forward, Princeton will not be releasing admissions statistics, but you can guarantee it's a low percentage, after it dipped below 4% in 2021.
Rankings
Princeton University is currently the #1 ranked institution of higher education in the United States, boasting a 5:1 student-to-faculty ratio and a $35.8 billion endowment shared by 5,548 undergraduate students and 3,157 graduate students.
SAT and ACT
The middle 50% of admitted applicants have SAT Math scores in the range of 760-800, SAT Evidenced-based Reading and Writing in the range of 730-780, and/or Composite ACT scores in the range of 33-35.
GPA
The average admitted applicant to Princeton has an unweighted GPA of 3.92, which means that accepted applicants generally receive only A's and A-'s in high school. More than half of admitted students have a perfect 4.0 GPA.
Tuition and Financial Aid
The cost of attending Princeton is $79,540 per year. Note that if you are lucky enough to be accepted into this prestigious university but cannot afford to pay the tuition, Princeton is also considered the #1 private university in the U.S. in terms of financial aid, with most students receiving some form of financial aid and 83% of seniors graduating debt-free. Princeton is need-blind, even for international students. Due to Princeton's policy of meeting 100% of demonstrated financial need, the average cost of attending Princeton works out to $9,836 per year.

What Is Princeton University Looking For?
The High School Experience: Expectations
When admissions officers review your transcript, they're looking to see that you've challenged yourself. Princeton expects four years of instruction in the following subjects:
English
Math
A non-English language
Science
History
Arts, ideally
Admissions officers will not penalize you for not taking courses your school didn't offer. For instance, if your school only offers three years worth of history classes, you won't be penalized for not taking a fourth year of history senior year.
Whatever advanced programming your school may allow you to take, challenge yourself by pursuing it, even in subject areas that are not your primary interests: Princeton expects well-rounded applicants.
If your school offers AP or IB classes, take as many of them as you can handle and submit your strongest AP or IB scores. Even if you want to major in math, an Honors English course and a strong IB grade in History will boost your application significantly.
Enrolling in courses at your local community college or in well-regarded online courses, and/or attending academically rigorous summer programs will also benefit your application to Princeton.
Extracurriculars and Princeton: The Truth
Balancing Your Activities
Princeton University not only expects applicants to have been involved in extracurriculars in high school, but also that students' extracurricular involvement goes beyond the surface-level. That might mean starting your own club or striving for success in Science Olympiad. "Well-rounded" on a Princeton application usually involves some mix of the following elements: academic, artistic, activist, administrative, and athletic.
You definitely don't need all of these elements, but having 2-3 different types of extracurriculars which you've devoted yourself to will really make your application stand out. For instance, you might be an artist who also runs track. Maybe you campaign for local politicians, serve as treasurer for the book club, and write for your high school newspaper. Or maybe you compete in the AIME and volunteer at your church.
Special Circumstances
It's also important to bear in mind that responsibilities in your home can potentially fall into the extracurricular category, not least because they take up as much or more time than any "standard" extracurricular. In your essays, bring up your home responsibilities if you have any, in order to paint a more complete picture of who you are.
Note that Princeton University favors applicants who have worked a paying job, whether delivering pizza or tutoring AP Calculus BC. Discuss your experiences in gainful employment somewhere in your application if you have any. Working any kind of job not only demonstrates skill at that job, but it also shows the admissions officers your maturity and work ethic.
Princeton University Application Requirements
Application Checklist
The Application
The most important thing to consider when applying to Princeton are its application requirements. Princeton accepts the Common Application, and only the Common App, unless you qualify for the QuestBridge program, so be sure to complete the appropriate application.
Essays
You must complete the Princeton Supplemental Essays (see this great Next Admit post to learn How to Write the Princeton Supplemental Essays in greater detail).
Application Fee
You must submit a $70 application fee or fee waiver.
Graded Written Paper
You must submit a graded written paper, preferably in the subject of English or History, although other subjects are also permissible. This element of your application is unique to Princeton, indicating that, maybe more than other colleges and universities, Princeton cares deeply about your standard of academic writing. Be sure to select a paper you received an A or A+ grade on, ideally from junior or senior year of high school, and not from freshman year.
Also, it's even better if your teacher can provide some comments on the essay in addition to a letter grade. If your school doesn't offer standard grades like A-F, don't sweat it, just be sure to request that your English, History, or other teacher provides a letter grade on whichever paper you elect to submit, and written comments as well if possible.
It's recommended that you select a longer essay if you have one (over 4 pages) in order to provide more insight into your quality of writing, but if you only have 1 or 2 page papers, that's still acceptable. Note that this isn't an opportunity to demonstrate your creative writing skills, but instead your ability to write an academic paper. This requirement is a substitution for the requirement of your SAT or ACT Essay score, which Princeton no longer requires. That said, if you had the opportunity to take the Essay section of the SAT or the ACT, and you received a strong score, it's highly recommended that you submit it.
The Art Supplement
If you are artistically skilled, then Princeton has an art application supplement just for you. Applicants can provide supplements in the following areas:
Architecture
Creative writing
Dance
Music
Musical theater
Theater
Visual arts
If your artistic skills are not covered by these categories, you are still able to provide links to your work in the additional information section of your Common App. Bear in mind, though, that Princeton's admissions office notes that they might not have faculty qualified to evaluate art outside those categories, or the time to evaluate it.
You read that right: if you submit to any of the arts categories listed above, a Princeton faculty member will take time out of their day to review it. The faculty member will then notify the admissions office whether they believe that the supplement's level of artistic skill is on par with that of current Princeton students. If so, this is obviously a boost to your application. If not, then the admissions office will disregard the supplement entirely.
In other words, you won't be penalized for a poor artistic supplement. That said, it's not advisable to submit just anything as your art supplement: take this section as seriously as your essays and other application elements, and it will no doubt serve you well.
The Interview
The other optional, but highly recommended action you can take is to interview with an alumnus/a. Do alumni interviews make or break your application? Probably not, but the interview is a great way to show your interest in the school and to ask questions from someone who really went to Princeton. If you have the option, then go for it. Just be sure to prepare beforehand with some well-researched questions, and be yourself.
What You Need from Your School
Transcript
A transcript is a required submission material. Your school has probably submitted many transcripts for its students before, but if you can, look over your transcript before your school submits it. Many students view their transcripts only after the fact and discover typos, vague course titles (for instance, "Math" instead of "Honors Pre-Calculus"), and errors that could have been fixed with a quick once-over before submission.
School Report
A School Report must be completed by a school administrator or school official—lucky for you, apart from making sure this gets done, you have no responsibilities here.
Counselor Recommendation
A Counselor Recommendation is a requirement for applying to Princeton. If you haven't already, be sure to sit down with your guidance counselor or whomever will be writing this letter on your behalf and get to know each other. Are there parts of who you are that you would like your counselor to bring up, or a certain tone you would like your counselor to avoid? One challenge many students face when applying to college is an impersonal counselor recommendation—the student might be the top of their school and a thoughtful classmate and friend, but if your counselor doesn't know this about you, only working with surface-level impressions, it will probably show in their letter.
Teacher Recommendations
Two Teacher Recommendations are required for applying to Princeton. Again, it's important that you build relationships with your teachers throughout high school. These teachers writing for you must teach you in core classes, and it's crucial that they know you well enough to write for you. If you don't feel that you know your teachers very well, then see if you can schedule a time for you to talk outside of class, just like with your guidance counselor. Tell your teachers about your academic interests and passions, personal interests, and anything about yourself that you feel demonstrates your unique personality and would benefit your college application.
Midyear Report
Your grades, specifically your midyear school report. Like your School Report, apart from making sure this gets done and you keep your grades up, this is out of your hands.
What's the Deal with Test-Optional?
The SAT and the ACT are not requirements to apply to Princeton, but they are highly recommended. Unless your scores are well below Princeton's middle 50%, then you should definitely submit them; at minimum, it's recommended that you study and sit for the exams to see if you have a shot at a strong score.
You might be wondering why you should care about these scores when Princeton is test-optional. The reality is that Princeton still cares about these standardized tests, as evidenced from their display of admitted students' average scores on their admissions information page. These scores help boost the University's U.S. News and World Report rankings, and they demonstrate some metric of college-level capability among applicants.
Of course, standardized test scores are closely correlated with family income, and at a school like Princeton, which has such a strong financial aid policy, it doesn't seem fair that these scores still hold weight. But even if there's debate as to whether not submitting a score holds a negative impact or a neutral one, it is undeniable that submitting a good score has a positive impact. So, if you can, submit.
If English is not a native language for you and you haven't spent at least three years at a secondary school where English is the primary language of instruction, then Princeton requires that you submit TOEFL, IELTS or PTE Academic scores.
Deadlines
The deadline to apply for Princeton Early Action to become a member of the Class of 2027 has already passed (November 1, 2022). The decisions for the Class of 2027, Early Action, will be released mid-December.
The Regular Decision deadline to apply to Princeton University is January 1, 2023, although the optional arts supplement is not due until January 9, 2023, and the financial aid application is not due until February 1, 2023. Admissions decisions for the Class of 2027, Regular Decision, are released on April 1, 2023. Admitted applicants must accept or reject their offer to attend Princeton by May 1, 2023.
When you're applying to Princeton, bear in mind how low the acceptance rate is and how many fully qualified applicants are rejected every year. Even if you're rejected outright, it's probably nothing to do with you. Whatever you do, try your best and reach for your dreams: the only way to be sure you have a chance of being admitted to Princeton is to apply.